In order to help place you in your dream job we will need you to put a little time into fine tuning your CV. To help you with this task we have included the highest priority elements to include below:
1 – Name
2 – Educational History
A chronological record (most recent first) of all formal educational programs, using the official name of the course, educational institution, date of award and the level of the award
3 – Professional Body Memberships and Registrations
Membership /Registration Name and date of conferral
4 – Working History
(Chronological order with the most recent first)
Job title
Name of Hospital and location
Dates of employment
Brief description of the hospital
Duties and Responsibilities
5 – List of Clinical Skills
6 – Training History
A record of successfully completed training programs – official name of course and date certification received
7 – Research and Audits
Title and dates
8 – Publications
Article name, publication and date published
9 – Referee Details
Referees name and job title
Email Address
Contact telephone number
General Registration Process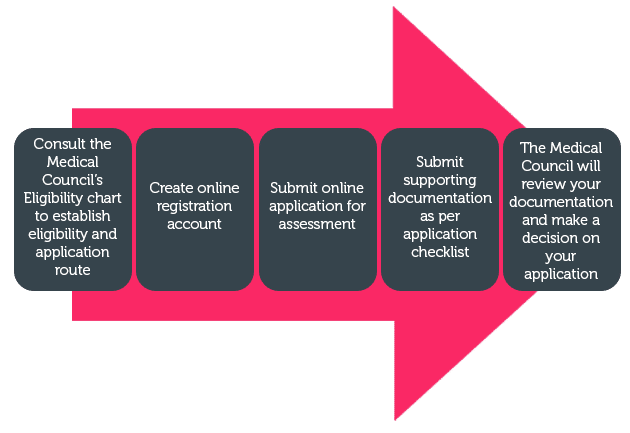 Doctors Trained Outside of the EU/EEA
If you have trained outside of the EU or EEA, you will need to have your medical education credentials verified through the Electronic Portfolio of International Credentials (EPIC) before you can apply for registration with the Medical Council. EPIC is hosted by the Educational Commission for Foreign Medical Graduates (ECFMG). You can learn more about how to use EPIC on the EPIC website.
There are 3 sub-routes in which you can apply for General registration as a Non-EU applicant:
Higher Qualification
Certificate of Experience
Pre-Registration Examination System (PRES)
Eligibility Requirements:
Doctors who have a higher qualification and have either worked in an internship for at least 12 months or have completed at least three years in an accredited training programme.
Doctors who have achieved a Certificate of Experience from Australia, New Zealand, South Africa, Pakistan, Sudan, Malaysia, the UK or Malta.
Doctors who aren't eligible under the higher qualification or Certificate of Experience routes, can apply for the Pre-Registration Examination System (PRES) exam. Please see links for information on PRES and exemptions from PRES.
The following list of supporting documents will be required:
Notarised copy of your passport.
All Non-EU applicants must have their medical degree verified by EPIC
All Non-EU applicants must have their internship (and if applicable their Higher Qualification diploma verified by EPIC)
Certificate of Good Standing to be sent directly to the Medical Council, from each medical council you have worked under within the last five years. (From any authority you have been registered with.)
International English Language Testing System (IELTS) certificate dated within the last two years with an overall band score of 7.0 and a minimum score of 6.5 in each module. OET certificate is also accepted and you must have a score of B in each module.
Please note that all documents for Non-EU applicants outside of your EPIC verification documents must be sent to the Medical Council by post. (This includes notarised passport, English language evidence and Certificate of Good Standing), please do not email these documents.
The address details for sending documents is : Medical Council, Upper Ground and 5th Floor, Block 9 (Europa House), Harcourt Centre, Harcourt Street, Dublin 2, D02 WR20.
Doctors Trained in the EU/EEA
If you have trained in the European Union (EU) or European Economic Area (EEA), you will be asked to create an account through our secure online facility.
You then need to complete an online application form and submit the following documents to support your application:
Notarised copy of your passport.
Translated and notarised copy of your original medical degree.
Certificate of conformity stating that your training is in accordance with the EU directive 2005/36/EC (this does not apply to you if you completed your training in the UK).
Certificate of Good Standing to be sent directly to the Medical Council, from each medical council you have worked under within the last five years.
Specialist Registration
Doctors Who Completed Specialist Training Outside of the EU/EEA
If you have either trained outside of the EU or EEA or have gained part of your training and experience in the EU or EEA, you will need to apply for specialist registration. Doctors who completed training outside of the EU or only partly in the EU must proceed via the The Category E route by requesting an application pack. This is a portfolio based application which will be assessed by the relevant training body in Ireland. Please request an application pack via our contact form.
Doctors Who Completed Specialist Training in the EU/EEA
If you have trained or are recognised as a specialist in the EU or EEA, you will have your qualifications automatically recognised by the Medical Council. You will be asked to create an account on the Irish Medical Council's website to complete an online application form.
The following list of supporting documents will be required:
Notarised copy of your passport.
Translated and notarised copy of your original medical degree.
Translated and notarised copy of your original Certificate of Specialist Training (if you are applying for Specialist Registration).
Certificate of conformity stating that your training is in accordance with the EU directive 2005/36/EC (this does not apply to you if you completed your training in the UK).
Certificate of good standing to be sent directly to the Medical Council, from each Medical Council you have registered and worked within during the last five years.
Next Steps
We have a dedicated compliance department to assist you with all your documentation should you be relocating to Ireland. If you can't find the information you are looking visit www.medicalcouncil.ie.
It is no doubt a great leader directly impacts the business, for better or for worse.
1 in 3 employees don't trust their leaders
There is more to leadership than being the smartest or most charismatic individual in a room. Leaders influence and inspire through action. They determine the company culture from the top-down. But what truly makes a leader great? And why is great leadership so important?
According to the 2016 Edelman Trust Barometer, 1 in 3 employees don't trust their leaders. This lack of trust in leadership has a direct impact on retention, job satisfaction, and overall performance, which influences the company's success. In fact, 79% of employees quit their jobs due to a lack of appreciation from leaders. It is no doubt a great leader directly impacts the business, for better or for worse.
What are the traits of a good leader?
Emotional Intelligence: This includes self-awareness, empathy, communication skills, and the ability to be vulnerable and ask for help when needed. Emotional intelligence means recognizing that different people require different styles of management and adjusting based on the individual.
Competence: Leaders must know what they are doing and be able to do it well. You cannot get a promotion or get to the top of a company without having the skills to do the job itself. Competence is an essential leadership trait.
Charisma: It's not always what you say that matters; it's how you say it. Charisma on its own is not enough for great leadership, but a great leader does need the skills to inspire others. Martin Luther King Jr. is an example of a great leader because of his ability to move people in an authentic way.
Vision: A great leader needs to be able to see the big picture. Vision enables the leader to make strategic, long-term decisions, especially in the heat of the moment. Having a clear vision keeps a leader motivated and helps them stay true to their mission.
Integrity: Integrity is essential to great leadership. This requires honesty, openness, and trust. It means a leader acts in ways that align with their values and has a strong moral compass.
Decisiveness: Often, leaders will have to make the decisions that others don't want to make. Great leaders are also not afraid to ask for input to ensure they have all the information necessary before finalizing a decision.
Innovative: It's important for great leaders to be innovative and to inspire innovation in their employees. It may be comfortable to follow the status quo, but greatness doesn't come from comfort. Innovation is also profitable. According to a Booz & Co. report, innovation organizations saw 11% more revenue and 22% more growth than their counterparts.
Risk-Taking: Innovation also requires taking risks. Risk-taking does not mean reckless decision-making, however. It means having the ability to make an informed and calculated risk, assessing whether the cost outweighs the benefit. Further, research shows that leaders who take risks are better liked by their employees, regardless of the outcome of their decision.
Invest in People: To lead people is to invest in them. All great leaders value their employees and their continuous growth as well as their own. The people are the company's greatest asset, and great leaders know this.
Holistic Health: A burnt-out leader is an absent leader. Those who care about their overall well-being such as their diet, exercise, sleep, and work-life balance are not only helping their own performance but are setting a better example for their employees. Moreover, research shows that self-care improves performance and productivity.
These ten traits are some of the core values of great leadership. All of these are important to inspire loyalty, trust, and retention in the workplace.
Lastly, what's most essential is a leader who cares, whether that's about their people, the business, or their overarching mission. Passion is contagious, and that is what true leadership inspires.
As the age-old saying goes, 'If you love what you do, you never work a day in your life'. But how true is it? For most people, loving what you do comes at a cost. And loving what you do may not be as fulfilling as you're led to believe.
90,000 hours of your life
It is natural for humans to search for meaning in their careers, especially when most of the waking day is spent at work. In fact, the average person spends 90,000 hours at work over a lifetime, which is one-third of a life. That is a lot of time that could either be soul-fuelling or soul-destroying. However, building a life that you love involves more than simply enjoying your day job. For some, benefits, stability, and the ability to spend time with loved ones and shut off at the end of the day are far more rewarding than loving the work itself.
Should you quit your job to pursue your dreams? You might want to consider what it means before jet-setting across the world.
Where Did the Idea of 'Loving the Work You Do' Originate?
Sarah Jaffe, author of Work Won't Love You Back: How Devotion to Our Jobs Keeps Us Exploited, explains how the slogan, 'If you love what you do, you never work a day in your life' originated from a time when women were expected to do unpaid labour in the domestic space under the guise that it is 'natural' for women to enjoy this type of work. In creative pursuits, artists were underpaid or not paid at all because their work was seen as their passion and therefore, the reward was in the making.
'Loving the work you do' was a way to exploit workers, and it still is. Many creative jobs do not pay well. It may be appealing to quit your 9-5 in the hopes of living the digital nomad lifestyle, but the reality is often much bleaker than it appears. For entrepreneurs, the idea of starting a business may appeal for similar reasons — flexible working hours, control over one's own time, passion, and potential to earn more — but those benefits often do not come until years later.
Why Doing What You Love Doesn't Always Pan Out
I
It can be exciting to take the leap and pursue your passion, but managing expectations is essential. First, doing what you love may require sacrifices in other areas of life. This may mean working longer hours, working on weekends, and accepting little to no monetary reward at the outset. Further, research shows that 60% of businesses fail in the first three years. If your dream is to be your own boss, accept that it may take a lot of trial and error before achieving that status.
For entrepreneurs and creatives especially, doing what you love can also be incredibly lonely. Humans need social interaction. According to a Harvard Business Review study, half of CEOs experience loneliness in their careers, with first-time CEOS the most susceptible. There are ways to combat feelings of isolation such as forming communities outside work and with other like-minded individuals. But it may be worthwhile to assess whether an environment that provides social interaction is a non-negotiable.
What Are Some Ways to Pursue a Life You Love?
First, don't quit your job without a plan. Always have a safety net in case it doesn't work out. Maslow's Hierarchy of Needs explains that our basic needs must be met before we can achieve self-actualization. You will not enjoy the work you do if you cannot afford to put food on the table.
Second, it's also important to consider your desired lifestyle and what kind of career can provide that. For example, if 'doing good' is a core value, then you may have to accept a downgrade in pay. If work-life balance is important, then perhaps working for a 9-5 at a medium-sized corporation rather than pursuing a passion is more in alignment with the life you want.
Lastly, work is not the only means to living a life you love. It's important to diversify your interests to ensure your whole identity doesn't revolve around your career. This can include hobbies, side gigs, passion projects, spending time with family and friends, or even physical activity.
"When you have money, it's always smart to diversify your investments. That way if one of them goes south, you don't lose everything. It's also smart to diversify your identity, to invest your self-esteem and what you care about into a variety of different areas — business, social life, relationships, philanthropy, athletics — so that when one goes south, you're not completely screwed over and emotionally wrecked."

Tim Ferris
How Can You Find Meaning in Your Work?
Ikigai is a Japanese term roughly translated as 'a reason for being'. It is often represented as a Venn diagram (shown below) as a guide for discovering your life's purpose. Your Ikigai is doing what you love, what you're good at, what the world needs, and what you can be paid for.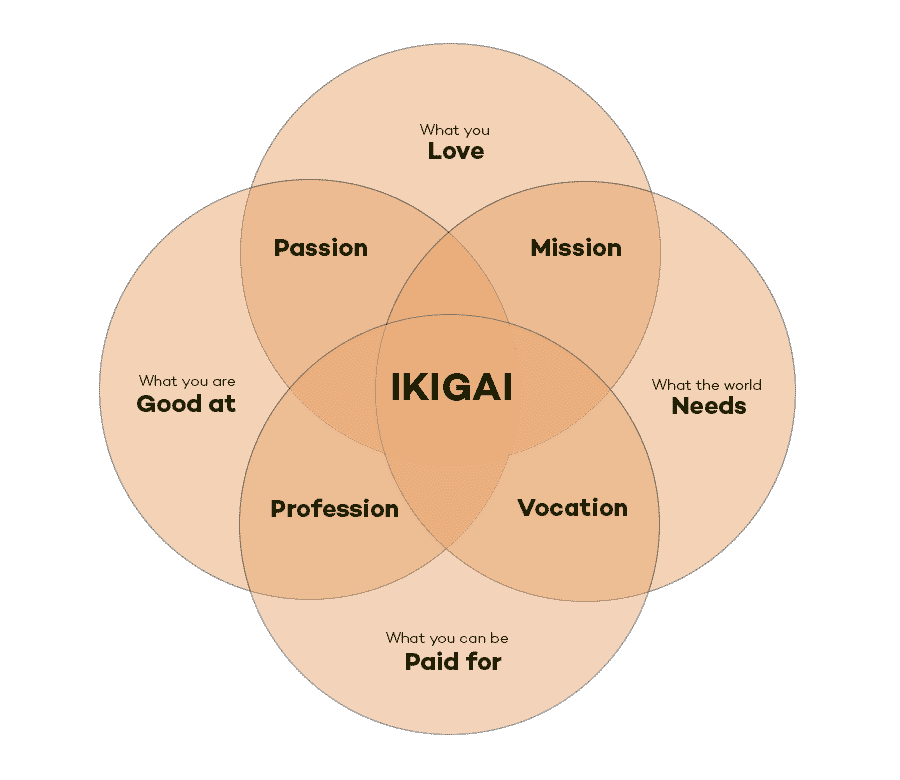 A key component of Ikigai is the ability to see the direct impact of your work. Ikigai can even increase longevity. Japanese Okinawans who embody Ikigai are known to live well past the age of 100.
Finding your Ikigai does not need to be in a grandiose way either. In fact, humans have the incredible ability to create meaning out of even the most mundane, or awful, of circumstances. In Viktor Frankl's Man's Search for Meaning, which he wrote after enduring the concentration camps, he explains:
"To choose one's attitude in any given set of circumstances, to choose one's own way…that the sort of person the prisoner became was the result of an inner decision, and not the result of camp influences alone…It is this spiritual freedom — which cannot be taken away — that makes life meaningful and purposeful."

Viktor Frankl
Perhaps the answer is to focus less on loving the work you do and more on doing work that is meaningful.
Over 200 Ukrainians have arrived in Ireland since the visa requirements were waived and Simon Coveney has said we could accommodate up to 20,000.
Lincoln Healthcare stands strong with Ukraine and hopes that as many countries as possible continue to offer Ukrainians a safe place to call home until these atrocities end.
Additionally we like to offer anybody fleeing Ukraine who works in the healthcare sector €250 to help equip them with the tools they may need for work should they be placed in any of our Healthcare roles.
IRISH REFUGEE COUNCIL
Whilst lifting the visa restrictions allows those fleeing to arrive here, it doesn't solve the issue of where they will live. The Irish Refugee Council's priority is to ensure that, on arrival, they are safe and welcome.
We have donated to their important work and would encourage you to do the same if you can. Make a donation now to make sure they are safe and welcome in Ireland. All donations for this appeal are being used exclusively to support Ukrainian refugees.
The Department of Health requested €18.3 billion in gross funding for 2020. Compared to Revised Estimates 2019, this was a €1.2 billion increase in spending.
Using the Indicative Appendices to the Health Vote, we can get an indication of where the additional resources were directed. Already the largest service area, Acute Hospitals received the largest increase, further increasing its share of the health budget. Mental Health received a very small share of the change in overall terms, but this is the result of a €46.5 million fall in capital budgets, which offsets current spending that is expected to rise by €51.3 million.
The HSE budget for 2021 will see an increase of €3.5bn bring the total budget to €20,623bn as the healthcare system continues to reckon with the Covid-19 pandemic.
Around half of this increase (€1.68bn) will go towards Covid-19 spending while the remaining €1.8bn will go towards non-Covid care.
The National Service Plan for 2021 will include additional spending to improve services in the areas of cancer, maternity and mental health.
The plan provides for 16,000 additional staff including 1,100 medical and dental staff, more than 3,500 nurses and midwives and 4,000 health and social care professionals.
The funding for Covid-related spending includes PPE, the vaccination programme, testing and tracing and improving access to care.
HSE Chief Paul Reid said: "The need to adapt our services urgently to the requirements imposed by the pandemic has led to some rapid changes, such as a move to increasing the volume and variety of services provided in the community.
"In 2021, we hope to use the additional funding to reinforce and support this move, which is in line with the Sláintecare reform agenda."
€1.1bn of the additional investment for 2021 will be used to deliver permanent and enduring improvements in healthcare arising from the Sláintecare reform programme while €0.7bn will go towards covering the increased costs of providing existing levels of service.
Employment growth
Despite considerable demand for those employed in healthcare occupations as a result of COVID-19, overall employment growth for this group was below the national average for the period 2015 to 2020.
However, demand has been evident, with these occupations accounting for 30% of all new employment permits issued in 2020 (primarily related to nurses and doctors) with a further expansion of the occupations in the employment permit system encompassing therapists and healthcare professional roles.
The HSE have also announced the creation of 16,000 whole time equivalent (WTE) posts in 2021. However, despite this demand, at least 5,000 persons employed in the health sector were in receipt of income support payments (PUP and EWSS combined) in June 2021; without any occupational breakdown available it is not possible to determine who this relates to although it is likely that the majority are based outside the hospital/nursing home setting. Due to Ireland's ageing demographics demand for health services is expected to continue to grow in future years.
The healthcare industry is facing many changes that pose new challenges to medical organisations big and small. In particular, the fast-evolving government regulations, Covid-19 Pandemic recovery, technological innovations, and patient expectations.
Sláintecare
Sláintecare is the ten-year programme to transform our health and social care services. It is the roadmap for building a world-class health and social care service for the Irish people.
Sláintecare sets out this new vision for the delivery of Introduction from the National Service Plan 2020 healthcare in Ireland.
Sláintecare will feature prominently in our forthcoming corporate plan, in all our future planning exercises and also in our operational decision-making. For the coming year, it has been agreed that that Sláintecare will focus on two key priorities:
Capacity and Access – They will work to improve access to services, to reduce waiting lists and hospital overcrowding (this will be a three-year plan); and
Regional Health Areas – working with the Department of Health (DoH), they will start to design and implement the new organisational structures at national, regional and local levels.
Sláintecare has also informed many of the priorities in this year's NSP.
In 2020 they committed to do the following:
• Continue with the disability sector reform programme
• Extend Activity Based Funding (ABF), including within the community setting
• Develop and implement a governance and oversight model between the HSE and the DoH
• Continue with our efficiency programme, with a targeted 1% (circa €170 million (m)) improvement
• Push forward on the use of generic drugs and biosimilars
• Progress electronic health record project for Children's Health Ireland
• Implement and adhere to the Pay and Numbers Strategy 2020
• Maintain focus on our preparations for Brexit
• Maximise value with the entirety of the resources provided by the Minister
While video interviews have always been a part of recruitment the COVID-19 pandemic has made them crucial to the application process.
Traditionally used in the early stages of the interview process to filter out large numbers of candidates they can vary in style and length. However as COVID restrictions were put in place the majority of things moved online and interviews were no exception.
The obvious benefits are the money and time savings for both you and the company. It also means that the recruiter and their colleagues can watch the interview again rather than just relying on notes.
The format isn't without its challenges though – the main ones being connectivity problems and time delays. Not everyone is comfortable on camera and this may put some candidates at a disadvantage. However, with some preparation these issues can be overcome and help you move on to the next stage of the process.
Research the format
It's vital that you know in advance what format the video interview will take, as the two main types are very different experiences.
• Live – this is similar to a regular face-to-face interview. You'll speak to the interviewer (or panel of interviewers) in real-time over a video connection using a service such as Skype or Zoom. Live videos enable employers to recreate the traditional interview format without requiring the candidate to travel to their office, meaning they can recruit from anywhere in world. Try to treat the conversation as you would an interview at the employer's offices and build a rapport with the interviewer.
• Pre-recorded – this is a much less personal experience as you won't be speaking to a real person. You'll be presented with pre-recorded or even written questions on screen, and then you'll have to record your answer on video, often to a time limit. This helps employers who have lots of candidates, as they can simply watch your answers later at a time that suits them – but it can be awkward if you aren't used to recording yourself. This makes practice even more important. On the plus side, you will be able to do the interview at a time of your choosing up to a set deadline.
Choose your location
Plan well in advance where you're going to do the video interview. Use a quiet location, where noises and people won't disturb you. Make sure the room you choose is tidy and use a clean and simple background so that the recruiter focuses on you.
You need to think about the lighting, as it won't be a great interview if you can't be properly seen. To ensure you don't get a shadow either use natural light from a window or put a lamp in front of the camera and adjust the distance to get the best result.
Close any software on your computer that might play notification sounds, and switch your phone to silent to guarantee you won't be distracted. Also, let everyone in the house know you're about to start the interview so they don't interrupt.
Dress appropriately
You may be at home but it's still a job interview and this is your opportunity to give a professional first impression – this means dressing appropriately. You should wear the same outfit you would have chosen for a face-to-face meeting with the employer. Think about how your clothes will look on screen and avoid busy patterns and stripes.
Use positive body language
It's best to avoid slouching, moving too much or touching your face. Instead employers will be looking for you to make good eye contact, smile, listen and take an interest in what they're saying. To help you do this your camera should be at eye level and you should look into it rather than at the screen.
For pre-recorded interviews, try to imagine you're speaking to a real person, maintaining your enthusiasm and positive body language. This can be harder to do when you're simply recording your answers.
If you're nervous it can be easy to rush what you're saying but remember that the employer wants to hear your answers. Speak clearly, and be careful not to interrupt as this is more easily done with the slight delay over the internet than during a face-to-face meeting.
Get technical
A few days before the interview you should test the computer, camera and any software that you've been asked to use. Make sure the picture is clear and the sound quality is good. It's also worth checking your internet connection.
On the day of the video interview ensure everything is fully charged or plugged in, as you don't want the battery to run down. You don't want to be still sorting things out as the interview starts, so switch everything on at least half an hour before the interview and sign in to any software that you'll need.
If there are any technical hitches, for example if you can't hear the questions very well, don't struggle through, as you won't put in your best performance. If it's a live video interview, mention the problem. It may easily be fixed, or the interviewer may be happy to end the call and redial.
For pre-recorded video interviews, check beforehand whether you're allowed to stop and restart in case of technical issues.
While you never know exactly what you'll be asked you can prepare by planning how you'd answer some of the most common interview questions.
While you never know exactly what you'll be asked you can prepare by planning how you'd answer some of the most common interview questions
Employers need to understand why you want the job, why you're the best person for the role, and how well your personality will fit into the organisation. How you answer interview questions will be the key factor in their decision.
What you say is obviously the most important thing but the way you answer also plays a part. Confidence and enthusiasm are particularly important. Preparing in advance for some of the questions you expect to come up against will enable you to put in the best performance on the day. Here are some of the job interview questions you're most likely to face…
Can you tell me a bit about yourself?
This question, usually the opener, tops the list of typical interview questions. It's incredibly important, as you can provide the interviewer with a great first impression. Preparation is important, but your answer shouldn't sound rehearsed. Focus on your skills, characteristics and successes, and how they make you a strong candidate in terms of the job description.
Keep your answer to less than five minutes. Generally, begin with an overview of your highest qualification and greatest achievements, before running through your work experience and giving examples of the skills that you've developed. If your work history is limited, focus on the areas of academia that you've most enjoyed and how this relates to the job.
Why do you want to work here?
Demonstrate that you've researched the role by discussing the skills and interests that led you to apply. Draw on what you enjoy – use examples from your academic, professional or extra-curricular life that suggest you're strongly motivated and can relate closely to the organisation. Talk about particular aspects of the job advertisement that enticed you.
Similar questions include:
• What do you know about the company?
• What motivated you to apply for this job?
What are your strengths?
Pick three or four attributes desired by the employer in the person specification, such as teamwork, leadership, initiative and lateral thinking. Whichever strengths you pick, you must be able to evidence them with examples.
Similar questions include:
• How would a friend describe you?
• How would you describe your personality?
• What are three positive things your last boss would say about you?
What are your weaknesses?
You can positively frame your answer by picking characteristics that you've taken steps to improve. For example, self-confidence issues could have previously led to difficulty accepting criticism – but tell the interviewer that you've learned to embrace constructive feedback as it allows for self-improvement. Alternatively, discuss how you overcame a potential downside of your greatest strength. For example, you might have had to learn how to cope with conflict if you're a great team worker.
Never say that you have no weaknesses, that you're a perfectionist, or that you work too hard. These are clichéd responses that portray you as arrogant, dishonest or lacking in self-awareness.
Similar questions include:
• How do you respond to criticism?
• How would your worst enemy describe you?
How do you prioritise your work?
The employer wants to know whether you're organised, can meet deadlines and are able to handle multiple projects at the same time. The best way to answer this question is to provide examples of times when you've juggled a number of different tasks and still delivered them to a high quality and on time. These examples can come from previous jobs, university study or your extra-curricular activities. Give some detail about what methods you use to keep track of your progress and productivity.
How would you improve our product/service?
Your knowledge and understanding of what the company does will prove invaluable. Don't be too critical of the product or service – you want to work there after all – but at the same, don't say you wouldn't change anything. The interviewer wants to hear some ideas.
Try to come up with one or two things that you think could be improved. The key is to offer an explanation of how and why you'd make these changes. Make sure you focus on relevant areas that you would have some responsibility for if you got the job.
Can you give an example of a time when you had to cope with a difficult situation?
This question is one of the most popular competency-based interview questions. It allows the employer to assess how calm and reliable you are under pressure. Outline an instance where you've coped with an unexpected problem, discussing how you reorganised and managed your time. Think about times where you've had to meet tight deadlines or handle difficult people.
Similar questions include:
• Give an example of a time when you had to cope under pressure.
• Give an example of a time when you've handled a major crisis.
• How do you manage your time and prioritise tasks?
• How do you respond to stress and pressure?
What has been your greatest achievement?
Ideally, your answer should evidence skills relevant to the job – such as teamwork, initiative, communication, determination and organisation. For inspiration, think about a time when you've received an award, organised an event, learned something new or overcome a major fear. Always prepare several examples.
Avoid the achievement of graduating from university – this won't distinguish you, unless you've had to deal with major difficulties such as illness or personal problems.
A similar question that you may be asked is 'What are you most proud of in your working life?'
What are your goals?
This is your chance to show the recruiter that you're ambitious and professionally determined. Talk enthusiastically about your realistic short and long-term targets, basing your answers on the employer, the industry and your skills and experiences.
Outline the various steps to your ideal job, but only in relation to the position that you're applying for and the company's career development offering. It's vital that you explain how your goals make you valuable to the organisation. You could mention your knowledge of relevant professional bodies and qualifications or reveal that you've researched the career paths followed by other graduates.
A similar question is 'What do you expect to be doing in five years' time?'
What are your salary expectations?
This can be an uncomfortable question to answer, as you don't want to undervalue yourself or give a figure so high that you rule yourself out of the job. If you decide to suggest a range, don't make it too wide as it will appear as though you are avoiding the question. Instead, narrow it down and mention that you're willing to be flexible and negotiate.
To prepare, check whether a salary or salary range is indicated in the job description and take that as your starting point. Then research similar roles to see what the average salary is across the industry or sector you want to work in. Job profiles will give you some examples.
If you're already in work, you may have been asked for your current salary when you applied for the job. Since gradual progression is most common, the employer may be surprised if your expectations are either below or significantly higher than your current salary.
Do you have any questions?
Arriving with no questions will give a bad impression. Anything that you ask should cover the work itself or career development. Prepare questions in advance and remember to ask questions if the moment naturally arises during the actual interview. For some ideas, see 7 good questions to ask at an interview.
If you need further help, university careers and employability services provide practice interview sessions. It's worth contacting them if you are a student or recent graduate.
The key to putting in a good performance and securing the job is preparation. Take a look at these tips to get you interview ready.
Types of interview
There are different types of job interview. In some cases, you'll only need to succeed at one of these to land the role. In others, particularly at large graduate employers, you may face several interview formats throughout the application process.
Face-to face – the traditional and still most common form of interview. You'll attend the employer's office and be questioned on your suitability for the job by an individual or panel. Face-to-face interviews usually last between 45 minutes and two hours, and may be preceded or followed by tests and exercises. Questions may be strength-based or competency-based.
Telephone – often used by employers early in the application process to filter large numbers of applicants. If you're successful you'll typically be invited to a face-to-face interview or assessment centre. Expect a telephone interview to last around half an hour.
Video – increasingly popular among large employers, particularly for applications to graduate schemes. Video interviews can be live or pre-recorded and tend to last around half an hour. These have increasingly been used due to the COVID-19 pandemic, which saw the majority of things move online.
Assessment centres – enable employers to compare the performance of lots of candidates at the same time. You'll attend an assessment centre with other applicants and take part in tasks such as presentations, team exercises and psychometric tests. Assessment centres usually last a full working day and have more recently been adapted to be held online.
Interview research
Your performance in an interview depends, to a significant extent, on how well you prepare. Don't leave this until the last minute. In the days leading up to the interview, focus your research on the:
Employer – you need to show that you understand the business beyond the basics. What sector does it operate in? What challenges does it face? Who are its competitors? What major projects has it recently completed? What are its culture and values? This kind of knowledge demonstrates a genuine interest.
Role – read the job description again and, if you completed an application form, go over it to refresh your memory of how your skills and qualifications match the job. It's vital that you can explain why you want the job, that you understand the role and, even more importantly, why the employer should choose you over other candidates.
Interview panel – try to find out who will be interviewing you. The email inviting you to the interview may include this information. Use LinkedIn and the 'About us' section of the company website to find out more about their professional interests and experience. This may help you to connect with your interviewers and create a positive impression during the interview.
Questions – consider how you'll answer common interview questions, as well as preparing some questions you'd like to ask the interviewer.
There are also some practical things to plan. Exactly when and where is the interview taking place? Have you planned your journey and checked the timetables for any public transport you need to take? Does all your equipment work for video and telephone interviews?
Avoiding alcohol the night before and having a healthy breakfast on the morning of your interview will stand you in good stead. If your interview is scheduled after lunchtime, make sure you eat something even if you're feeling nervous – you won't put in your best performance on an empty stomach.
Practice job interviews
It's a good idea to do at least one mock interview before the real thing. Your university careers and employability service will help you to practice your interview technique.
You can also write and practise answers to common interview questions with someone you trust – possibly even recording yourself and then reviewing your performance.
It's also worth testing your telephone connection and making sure that your laptop, microphone and any other technical equipment you need is working and you know how to use them.
What to take
pen and notebook
your CV and interview invitation
your academic certificates and work examples if requested
photo ID
breath mints or gum
a bottle of water
money for transport and food.
In addition for online interviews you may also need:
laptop/computer
headset/earphones
microphone
log in for the software you need to use.
What to wear to an interview
While many employers expect candidates to dress smartly, a growing number encourage casual wear at work, making it trickier than ever to choose an interview outfit.
What you'll be expected to wear depends on factors such as the size of the company, the industry it operates in and the culture it promotes. For example, a small creative agency may have different standards to a major accountancy firm.
If you're unsure on the dress code, ask before attending the interview. The key point to remember is that it's better to be too smart than too casual. Only opt for a more casual outfit if you're certain that's acceptable – if there's any doubt, go for smart business attire. Whatever you choose, make sure that your clothes are ironed and your shoes are clean.
For telephone and online interviews make sure you dress as though the interview is in person. Sitting in your tracksuit bottoms trying to act professional probably isn't going to go too well.
After the interview
As your job interview comes to an end, make sure you find out when you'll be informed of the outcome – and thank the interviewer for giving you the chance to attend.
Make some notes about the questions that were asked and how you answered them while the interview is still fresh in your memory. This will help you prepare even better for future interviews.
There are three potential outcomes:
• Success – if you're offered the job, make sure it's right for you by discussing it with friends and family, and double-check details such as the salary before deciding whether to accept.
• Rejection – if you're unsuccessful, don't be too downhearted as graduate employers receive large numbers of applications for every role. Email the company to thank them for the opportunity and request feedback from your interview so that you can improve your performance next time.
• Further steps – interviews are typically the final stage in the application process, but if the employer has not been able to make a decision you may be asked back for a second interview.
4 ways to make a good impression
As you're preparing for the interview, think about ways you can show yourself in a positive light:
Punctuality – arriving late will increase your stress levels and give the employer a bad first impression, so do your best to arrive in good time.
Positivity and enthusiasm – be polite and professional with any staff you meet before or after the interview and, if you're feeling particularly nervous, remind yourself that the worst thing that could happen is not getting the job. During the interview, respond to questions with positive statements, be enthusiastic about the job and avoid badmouthing your previous employers or university tutors.
Body language – give a firm handshake to your interviewer(s) before and after the session. Once you're seated, sit naturally without slouching in your chair or leaning on the desk. Throughout the interview, remember to smile frequently and maintain eye contact.
Clarity – answer all questions clearly and concisely, evidencing your most relevant skills, experiences and achievements. It's acceptable to pause before answering a difficult question to give yourself thinking time, or asking for clarification if you're unsure what a question means. When answering, don't speak too quickly.